Meet our Next Speaker
Pamela Cox
Monday, February 16, 2015
Topic: Dealing with Stubborn Poverty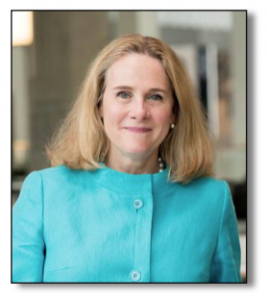 Pamela Cox is a senior international finance, trade, economic development and policy leader with over 30 years' experience in the World Bank Group.  During her three decades there before retiring in October 2013, she held senior operating roles in East and South Asia, Latin America and Africa, where she managed multibillion dollar portfolios and engaged with client governments at the highest levels.  Pamela has deep expertise in management, project finance, including developing innovative financing and risk management instruments and implementing high profile infrastructure investments, as well as in public sector policy formation and government relations.
Pamela has extensive operating experience. As vice president in both the Latin America and subsequently East Asia regions, she led teams of 1,000 staff, managed annual budgets of $175 million and oversaw project investment portfolios of $30 billion.  In these roles, she guided business strategy development and project finance for diverse public and nonprofit sector clients. She forged partnerships with foundations and the private sector.   As Vice President for World Bank operations in Latin America, she led the Bank's response to the 2008 financial crisis, providing critical financing and policy advice.  She managed high risk operations including the response to the Haiti earthquake, where she and her team pioneered new IT and web-based tools to evaluate damages and reconstruction needs.  As Vice President for East Asia operations, she led the Bank's re-engagement with Myanmar (Burma) in 2012, in close coordination with the US State Department and Japan.
Most recently, as a member of the World Bank Group senior management team (C-suite position), Pamela led a major strategy update, focused on improving the Group's delivery of finance and cutting edge knowledge and working closely with the WBG's Board of Directors and clients.  Linked to this, she led a year-long process to revitalize the WBG's value-added to clients, decide the WBG's global footprint and new business model, strengthen corporate focus on results and risk management, and build synergies across the group.
Pamela brings deep experience with public sector policy formation and government relations.  She has negotiated with heads of state, ministers, private sector representatives and civil society on a range of economic and policy issues.
Pamela earned a PhD and MA from the Fletcher School, Tufts University, where she studied development economics and received a Shell Fellowship to fund her dissertation research on energy issues in Senegal.  She is also a graduate of Reed College, where she earned a Bachelor of Arts degree in international studies and was elected to Phi Beta Kappa.  Her languages include French, Spanish and Portuguese.
Pamela serves on the Fletcher School's Latin America Advisory Group, and the Walnut Hill School Board of Visitors.  Pamela lives in Bath, Maine with her husband.
Meetings open to members only.  Unless otherwise noted, all meetings take place at Erickson Hall at Point Lookout.  Please plan on arriving by 11:30AM for noon meetings.  The speaker begins promptly at noon and lunch is served from 1PM.
A Few Audios of Past Presentations
Listed below are links to past presentations for which audios have recently been added. Click on the link to gain access:
For Would-be New Members:
Please click here to display and download a Membership Application Form.
For Additional Foreign Policy Events in the Midcoast Area . . .
Click to visit  The Camden Conference website.
How to Contact Us
We can be contacted by email, mail, or phone.
Mid-Coast Forum on Foreign Relations
PO Box 41
Rockport, ME 04856
207-236-8288