Meet our Next Speaker
Paul Mayewski
Monday, December 16, 2019
Topic: Maine and Arctic Climate Change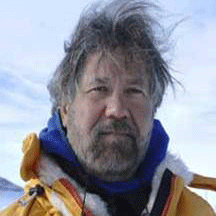 Dr. Paul Andrew Mayewski is Director of the Climate Change Institute and Distinguished Professor in the School of Earth and Climate Sciences, School of Marine Sciences, School of Policy and International Affairs, the Business School, and the Center for Ocean and Coastal Law (Law School) at the University of Maine. He has led more than 55 expeditions to some of the remotest polar and high altitude reaches of the planet (eg., Antarctica, Greenland, Himalayas, Tibet, Andes, sub-Antarctic Islands); has more than 430 scientific publications; received numerous honors including: the first internationally awarded Medal for Excellence in Antarctic Research, the Explorers Club Lowell Thomas Medal, honorary PhD from Stockholm University, honorary fellow in the American Polar Society, and fellow in the American Geophysical Union, American Association for the Advancement of Science, Explorers Club; developed and led major international and national climate change research programs in Antarctica, Greenland, Asia and New England; worked with outreach entities such as the American Museum of Natural History and Boston Museum of Science; released two popular books; and has appeared hundreds of times in the media including multiple CBS 60 Minutes broadcasts, several NOVA films, NPR pieces and the 2014 Emmy Award winner "Years of Living Dangerously".
Meetings open to members and members' guests only.  Unless otherwise noted, all meetings take place at Elk Hall, 210 Rankin Street in Rockland.  Please plan on arriving by 11:30 AM for noon meetings.  The speaker begins promptly at noon and lunch is served from 1 PM.
Audios of Past Presentations
Listed below are links to recent presentations. Click to listen:
For Would-be New Members:
Please click here to display and download a Membership Application Form.  It's an Acrobat "form" so you can type directly into it, then save and email it back to us at info@midcoastforum.org.  Alternately, you can print it, fill it out by hand and mail it to us at the address on the form.
How to Contact Us
We can be contacted by email, mail, or phone.
Mid-Coast Forum on Foreign Relations
PO Box 41
Rockport, ME 04856
207-236-8288