Meet our Next Speaker
Senator Angus King
Friday, July 6, 2018 at 7 PM (Camden Opera House)
Topic: Experience on the Senate Intelligence Committee and its Investigation of Russian Meddling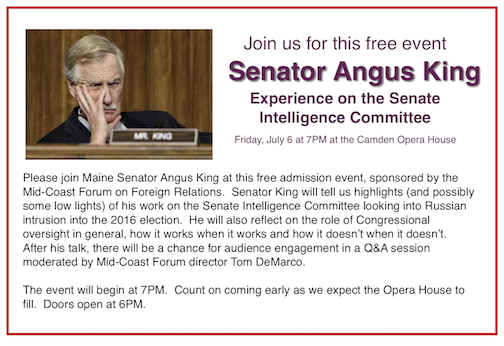 Meetings open to members and members' guests only.  Unless otherwise noted, all meetings take place at Hedges Hall at Point Lookout.  Please plan on arriving by 11:30AM for noon meetings.  The speaker begins promptly at noon and lunch is served from 1PM.
Audios of Past Presentations
Listed below are links to past presentations. Click to listen:
For Would-be New Members:
Please click here to display and download a Membership Application Form.  It's an Acrobat "form" so you can type directly into it, then save and email it back to us at midcoastforum@gmail.com.  Alternately, you can print it, fill it out by hand and mail it to us at the address on the form.
How to Contact Us
We can be contacted by email, mail, or phone.
Mid-Coast Forum on Foreign Relations
PO Box 41
Rockport, ME 04856
207-236-8288