Upcoming Speakers
Jennifer Cooke
Wednesday, August 23, 2017
Topic: Africa: The Case for US Engagement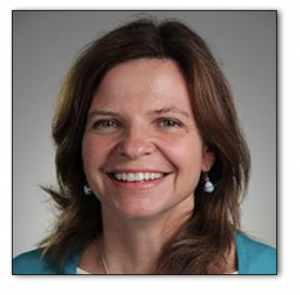 Jennifer Cooke is director of the Africa Program at the Center for Strategic and International Studies, where she leads research and analysis on political, economic, and security dynamics in Africa. She is a frequent writer and lecturer on U.S.-Africa policy and provides briefings, testimony, and policy recommendations to U.S. policymakers, the U.S. Congress, and the U.S. military. Recent projects include an examination of militancy and extremism in the Sahel and Lake Chad Basin, religious authority and the state in Africa, energy trends in sub-Saharan Africa, and the launch of the "Spotlight on Africa" conference series, which provides an in-depth look at political and economic developments in Africa's largest and most dynamic economies.
Cooke is a frequent commentator in print, on radio, and on television, and she has testified before Congress on Boko Haram in Nigeria, the political crisis in Côte d'Ivoire, and the African Union. She travels widely in Africa and has been an election observer in Sierra Leone, Mali, Nigeria, and Ghana. Growing up, she lived in Côte d'Ivoire and the Central African Republic, as well as Belgium, Italy, and Canada. Prior to CSIS, she worked at the National Academy of Sciences in the Office of Human Rights and the Office of News and Public Information and in the U.S. Congress on the House Subcommittee on Africa. She holds an M.A. in African studies and international economics from the Johns Hopkins University School of Advanced International Studies (SAIS) and a B.A. in government, magna cum laude, from Harvard University.
Juan Cole
Monday, September 18, 2017
Topic: The Middle East
Juan Cole is Richard P. Mitchell Collegiate Professor of History at the University of Michigan. For three decades, he has sought to put the relationship of the West and the Muslim world in historical context. His most recent work is The New Arabs: How the Wired and Global Youth of the Middle East Is Transforming It (Simon & Schuster, June, 2014). Engaging the Muslim World (Palgrave Macmillan, March, 2009, rev. 2010) and he also recently authored Napoleon's Egypt: Invading the Middle East (Palgrave Macmillan, 2007). He has been a regular guest on PBS's Lehrer News Hour, and has also appeared on ABC Nightly News, Nightline, the Today Show, Charlie Rose, Anderson Cooper 360, Countdown with Keith Olbermann, Rachel Maddow, the Colbert Report, Democracy Now! and many others. He has given many radio and press interviews. He has written widely about Egypt, Iran, Iraq, and South Asia. He has commented extensively on al-Qaeda and the Taliban, the Iraq War, the politics of Pakistan and Afghanistan, and Iranian domestic struggles and foreign affairs. He has a regular column at Truthdig. He continues to study and write about contemporary Islamic movements, whether mainstream or radical, whether Sunni and Salafi or Shi`ite. Cole commands Arabic, Persian and Urdu and reads some Turkish, knows both Middle Eastern and South Asian Islam. He lived in various parts of the Muslim world for nearly 10 years, and continues to travel widely there. A bibliography of his writings may be found here.
Anna Borshchevskaya
Monday, November 27, 2017
Topic: Russia: What Next?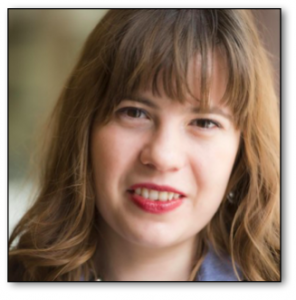 Anna Borshchevskaya is the Ira Weiner Fellow at The Washington Institute, focusing on Russia's policy toward the Middle East.  In addition, she is a fellow at the European Foundation for Democracy and was previously with the Peterson Institute for International Economics and the Atlantic Council. A former analyst for a U.S. military contractor in Afghanistan, she has also served as communications director at the American Islamic Congress.   Her analysis is published widely in journals such as The New Criterion, Turkish Policy Quarterly, and the Middle East Quarterly, and she also conducts translation and analysis for the U.S. Army's Foreign Military Studies Office and its flagship publication, Operational Environment Watch, and writes a foreign affairs column for Forbes.
Originally from Moscow, Ms. Borshchevskaya came to the United States  as a refugee in 1993 and has since received an MA in international relations from the Johns Hopkins University School of Advanced International Studies (SAIS) and a BA in political science and international relations from the State University of New York at Geneseo.
Stephen Harder
Monday, December 18, 2017
Topic: A China/US Partnership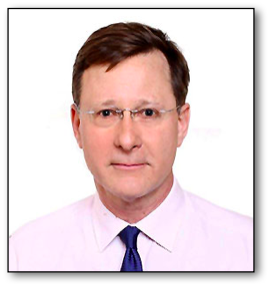 Stephen Harder is an international lawyer, currently based in Shanghai. He has been a partner at Clifford Chance LLP, a leading global law firm with headquarters in London since 1995, and he has been the managing partner of the firm's mainland China practice since 2002. Harder's recent practice focused on cross border transactions relating to China, including financings in Africa, South America, and Russia.
During his career, Harder has been based in New York, Brussels, Warsaw, Moscow, Hong Kong, Shanghai, and Beijing. When based in Europe in the early 1990s, he was a legal counsel for the Russian and Polish mass privatization program, as well as counsel to the Polish government in its "London Club" sovereign debt negotiations.
Harder wrote in the International Financial Law Review on "China's Sovereign Wealth Fund: The Need for Caution" and spoke in recent years at U.S. law and business schools on "China in the Balance: Needed Reforms, Vested Interests and the Choices Facing China's Leaders." He also published in the Annals of the American Academy of Political and Social Sciences on "Political Finance in the Liberal Republic."
He is a native of Boston and a resident of Rockport, Maine.
Ambassador Mike McFaul
Spring, 2018
Topic: Russia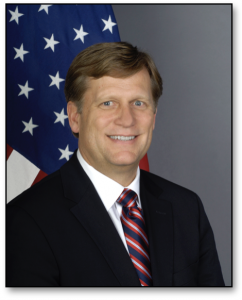 Michael McFaul is Professor of Political Science, Director and Senior Fellow at the Freeman Spogli Institute for International Studies, and the Peter and Helen Bing Senior Fellow at the Hoover Institution. He joined the Stanford faculty in 1995. He is also an analyst for NBC News and a contributing columnist to The Washington Post. Dr. McFaul served for five years in the Obama administration, first as Special Assistant to the President and Senior Director for Russian and Eurasian Affairs at the National Security Council at the White House (2009-2012), and then as U.S. Ambassador to the Russian Federation (2012-2014).
He has authored several books, including Advancing Democracy Abroad: Why We Should, How We Can; with Kathryn Stoner, Transitions To Democracy: A Comparative Perspective; with James Goldgeier, Power and Purpose: American Policy toward Russia after the Cold War; and Russia's Unfinished Revolution: Political Change from Gorbachev to Putin. His current research interests include American foreign policy, great power relations, and the relationship between democracy and development.
Dr. McFaul was born and raised in Montana. He received his B.A. in International Relations and Slavic Languages and his M.A. in Soviet and East European Studies from Stanford University in 1986. As a Rhodes Scholar, he completed his D. Phil. in International Relations at Oxford University in 1991.