Upcoming Speakers
Walter Slocombe
Monday, July 16, 2018
Topic: Diplomacy or Force: The Ambiguous Lessons of History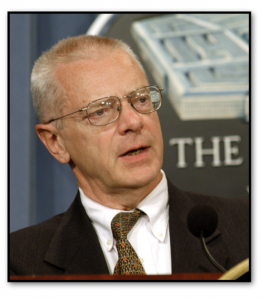 Walter Becker Slocombe  is a former Under Secretary of Defense for Policy (1994–2001)[1] and was the Senior Advisor for Security and Defence to the Coalition Provisional Authority in Baghdad (2003).
A lawyer and career federal official, Slocombe joined the staff of the National Security Council in 1969. Prior to that, he worked as a law clerk for Supreme Court Justice Abe Fortas.[2] He is a four-time recipient of an award for Distinguished Public Service and a member of the Council on Foreign Relations. He currently practices law with the Washington firm of Caplin & Drysdale.
Slocombe received a B.A. from Princeton University in 1963, where he received the Moses Taylor Pyne Honor Prize, the highest general distinction conferred on an undergraduate. Slocombe was also a Rhodes scholar, studying at the University of Oxford from 1963-1965. He graduated summa cum laude from Harvard Law School in 1968 and was admitted to the bar in 1970.
US Government Service:
Committee on the Intelligence Capabilities of the United States Regarding Weapons of Mass Destruction (2004)
Senior advisor for the Coalition Provisional Authority (2003)
Under Secretary of Defense for Policy (1994-2001)
Deputy Under Secretary of Defense for Policy (1979-1981), (1993-1994)
Deputy Assistant Secretary for International Security Affairs (1977-1979)
Jack David & Melanie Kirkpatrick
Monday, August 13, 2018
Topic: North Korea—Perils and Unhappy Options.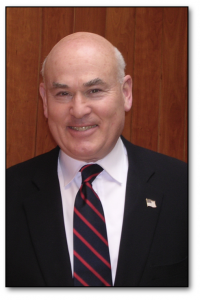 Jack David is a senior fellow in national security at the Hudson Institute in Washington, D.C. and a trustee of Hudson as well as a trustee of the Committee for Human Rights in North Korea
He served as Deputy Assistant Secretary of Defense for Combating Weapons of Mass Destruction and Negotiations Policy from 2004 to 2006. He was responsible for developing and advising on plans and policies relating to nonproliferation and counterproliferation of WMD, including issues related to North Korea and Iran. He is a recipient of the Secretary of Defense Outstanding Public Service Award.
Prior to that he practiced law in New York City for 28 years until 1995. His legal practice focused on representation of foreign and domestic clients in predominantly civil litigation. He also represented foreign and domestic clients on corporate matters, contracts, acquisitions, and business reorganizations.   He holds a B.A. from Rutgers University and a law degree from Columbia University.
Melanie Kirkpatrick is a writer-journalist based in Connecticut and a senior fellow at the Hudson Institute, a Washington think tank. She contributes reviews and commentary to various publications, including the opinion pages of The Wall Street Journal, for which she worked for 30 years. She is the author of Thanksgiving: The Holiday at the Heart of the American Experience (2016) and Escape from North Korea: The Untold Story of Asia's Underground Railroad (2012).  WORLD Magazine named Escape from North Koreathe best book of 2013.
At The Wall Street Journal, Melanie was a longtime member of the editorial board. She began her Journal career as a copy editor in Hong Kong, rising to become op-ed editor and then deputy editor of the newspaper's opinion pages.  Early in her career she worked at the Buffalo Courier-Express and at Time-Life Educational Systems in Tokyo, where she free-lanced as a host for an NHK-TV show for children.
She received a bachelor's degree from Princeton University and a master's degree in English from the University of Toronto. She was a Gannett Newspaper Foundation Fellow in Asian studies at the University of Hawaii. She is a member of the Council on Foreign Relations; a trustee emerita of Princeton in Asia, an internship program in Asia for young graduates of American universities; a member of the advisory board of the Human Freedom Program of the George W. Bush Institute; a member of the Trollope Society; and a director of the America for Bulgaria Foundation.
Ambassador Michael McFaul
Tuesday, September 4, 2018
Topic: Russia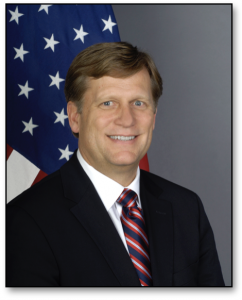 Michael McFaul is Professor of Political Science, Director and Senior Fellow at the Freeman Spogli Institute for International Studies, and the Peter and Helen Bing Senior Fellow at the Hoover Institution. He joined the Stanford faculty in 1995. He is also an analyst for NBC News and a contributing columnist to The Washington Post. Dr. McFaul served for five years in the Obama administration, first as Special Assistant to the President and Senior Director for Russian and Eurasian Affairs at the National Security Council at the White House (2009-2012), and then as U.S. Ambassador to the Russian Federation (2012-2014).
He has authored several books, including Advancing Democracy Abroad: Why We Should, How We Can; with Kathryn Stoner, Transitions To Democracy: A Comparative Perspective; with James Goldgeier, Power and Purpose: American Policy toward Russia after the Cold War; and Russia's Unfinished Revolution: Political Change from Gorbachev to Putin. His current research interests include American foreign policy, great power relations, and the relationship between democracy and development.
Dr. McFaul was born and raised in Montana. He received his B.A. in International Relations and Slavic Languages and his M.A. in Soviet and East European Studies from Stanford University in 1986. As a Rhodes Scholar, he completed his D. Phil. in International Relations at Oxford University in 1991.
James N. Miller
Monday, October 8, 2018
Topic: Means of Preventing War
Gary Samore
Monday, November 12, 2018
Topic: Status of Iran and North Korea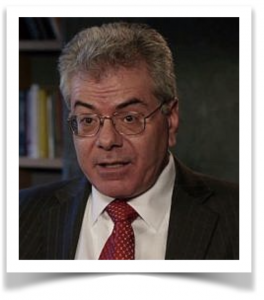 Gary Samore is Executive Director for Research at the Belfer Center for Science and International Affairs at the Kennedy School of Government at Harvard University. In December 2015, Dr. Samore was appointed as a member of the Secretary of Energy Advisory Board (SEAB) under Secretary Ernest Moniz and served until January 2017. He is also a non-resident Senior Fellow at the Brookings Institution and member of the advisory board for United Against Nuclear Iran (UANI), a non-profit organization that seeks to prevent Iran from acquiring nuclear weapons.
He served for four years as President Obama's White House Coordinator for Arms Control and Weapons of Mass Destruction (WMD), including as U.S. Sherpa for the 2010 Nuclear Security Summit in Washington, DC and the 2012 Nuclear Security Summit in Seoul, Korea.  From 2006 to 2009, Dr. Samore was Vice President for Studies at the Council on Foreign Relations (CFR) in New York, where he held the Maurice R. Greenberg chair and directed the David Rockefeller Studies Program. Before joining CFR, Dr. Samore was vice president for global security and sustainability at the John D. and Catherine T. MacArthur Foundation in Chicago, and from 2001 to 2005, he was Director of Studies and Senior Fellow for Nonproliferation at the International Institute for Strategic Studies (IISS) in London.  At IISS, he produced three "strategic dossiers" on Iran (2005), North Korea (2004), and Iraq (2002), which are considered authoritative and exemplary assessments of nuclear, biological, chemical, and missile programs in those countries.
Dr. Samore was Special Assistant to the President and Senior Director for Nonproliferation and Export controls during the Clinton Administration. Before the National Security Council, Dr. Samore worked on nonproliferation issues at the State Department. In 1995, he received the Secretary of Defense Medal for Meritorious Civilian Service for his role in negotiating the 1994 North Korea nuclear agreement. Prior to the State Department, he worked at the Lawrence Livermore National Laboratory and the Rand Corporation.
Dr. Samore was a National Science Foundation Fellow at Harvard University, where he received his MA and PhD in government in 1984.  While at Harvard, he was a pre-doctoral fellow at what was then the Harvard Center for Science and International Affairs, later to become the Belfer Center for Science and International Affairs.