Upcoming Speakers
Dimitri Simes
Monday, April 2, 2017
Topic: The Cost of Ignoring Russia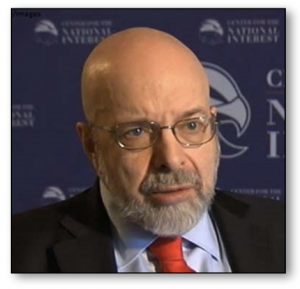 Dimitri K. Simes is President and CEO of the Center for the National Interest and Publisher of its foreign policy magazine, The National Interest.  Mr. Simes was selected to lead the Center by former President Richard Nixon, to whom he served as an informal foreign policy advisor and with whom he traveled regularly to Russia and other former Soviet states, as well as Western and Central Europe.
Before the Center was established, Mr. Simes served as Chairman of the Center for Russian and Eurasian Programs and a Senior Associate at the Carnegie Endowment for International Peace.  Earlier, he was director of the Soviet research program and a research professor at the Nitze School of Advanced International Studies (SAIS), at Johns Hopkins University.  Mr. Simes also ran the Soviet policy program at the Center for Strategic and International Studies, and taught at the University of California at Berkeley and Columbia University.
Mr. Simes was born in Moscow, where he graduated from the Moscow State University.  He studied and worked at the Institute of the World Economy and International Relations.  Mr. Simes emigrated to the U.S. in 1973.
Chris Miller
Monday, May 14, 2018
Topic: Putonomics: Power and Money in Resurgent Russia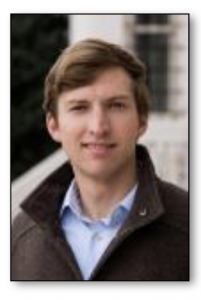 Dr. Chris Miller is the Associate Director of the Brady-Johnson Program in Grand Strategy at Yale. He has previously served as a lecturer at the New Economic School in Moscow, a visiting researcher and the Carnegie Moscow Center, and a research associate at the Brookings Institution. He has held fellowships from the German Marshall Fund and the Hoover Institution. His first book, The Struggle to Save the Soviet Economy: Mikhail Gorbachev and the Collapse of the USSR, was published in 2016. He received his PhD and MA from Yale University and his BA in history from Harvard University.
Sarah Mendelson
Monday, June 18, 2018
Topic: Combating Human Trafficking 2.0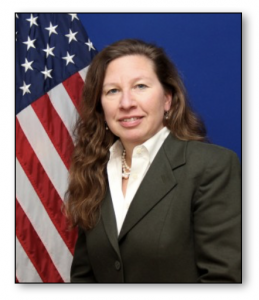 Ambassador Sarah Mendelson was confirmed by the Senate as U.S. Representative on the Economic and Social Council of the United Nations on October 8, 2015 and sworn in to her post on October 15, 2015. Ambassador Mendelson has spent over two decades working on development, democracy, and human rights as a scholar and practitioner both inside and outside of government.  From May 2010 to May 2014, Ambassador Mendelson served as deputy assistant administrator, responsible for Democracy, Human Rights and Governance in the Bureau for Democracy, Conflict, and Humanitarian Assistance at the U.S. Agency for International Development (USAID). She was also the agency lead on combatting human trafficking. At USAID, she directed a staff of nearly 100 with an annual budget of approximately $120 million.  Ambassador Mendelson comes to USUN from the Center for Strategic and International Studies where she worked from 2014-2015 and from 2001-2010 as senior adviser and inaugural director of the Human Rights Initiative.  From 1999 to 2001, she was a professor of international politics at the Fletcher School of Law and Diplomacy at Tufts University. She is the author and co-author of over 70 publications.  Her research has included work on closing space around civil society, historical memory, public opinion in Russia, as well as knowledge and experiences with human trafficking. Dr. Mendelson received her B.A. in history from Yale University and her Ph.D. in political science from Columbia University. Ambassador Mendelson is married to Dr. John R. Harvey.
Ambassador Michael McFaul
September 10, 2018
Topic: Russia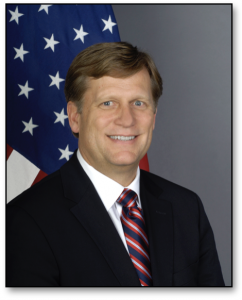 Michael McFaul is Professor of Political Science, Director and Senior Fellow at the Freeman Spogli Institute for International Studies, and the Peter and Helen Bing Senior Fellow at the Hoover Institution. He joined the Stanford faculty in 1995. He is also an analyst for NBC News and a contributing columnist to The Washington Post. Dr. McFaul served for five years in the Obama administration, first as Special Assistant to the President and Senior Director for Russian and Eurasian Affairs at the National Security Council at the White House (2009-2012), and then as U.S. Ambassador to the Russian Federation (2012-2014).
He has authored several books, including Advancing Democracy Abroad: Why We Should, How We Can; with Kathryn Stoner, Transitions To Democracy: A Comparative Perspective; with James Goldgeier, Power and Purpose: American Policy toward Russia after the Cold War; and Russia's Unfinished Revolution: Political Change from Gorbachev to Putin. His current research interests include American foreign policy, great power relations, and the relationship between democracy and development.
Dr. McFaul was born and raised in Montana. He received his B.A. in International Relations and Slavic Languages and his M.A. in Soviet and East European Studies from Stanford University in 1986. As a Rhodes Scholar, he completed his D. Phil. in International Relations at Oxford University in 1991.