Putin wanted to interrogate me. Trump called it 'an incredible offer.' Why?
Posted on Wednesday August 29 2018
By Michael McFaul.
"I thought I was done worrying about Vladimir Putin. I left Moscow in 2014 as the departing U.S. ambassador, after Putin spent my two-year stint deploying state-controlled media outlets and their surrogates to propagate disinformation about me. He'd been received tepidly in his campaign to retake the presidency from his ally, Dmitry Medvedev, and he needed an enemy. So his proxies falsely argued [keep reading] . . .
The Magnitsky Affair
Posted on Tuesday August 28 2018
By Amy Knight (New York Review):
Last May, a money-laundering suit brought by the United States against Prevezon Holdings Ltd., a Cyprus-based real estate corporation, was unexpectedly settled three days before it was set to go to trial. The case had been at the center of a major international political controversy. Prevezon, which is owned by a Kremlin-connected Russian businessman named Denis Katsyv, was accused by the US government of using laundered money from a 2007 Russian tax fraud to buy millions of dollars' worth of Manhattan real estate. The fraud, which was discovered by a Russian accountant named Sergei Magnitsky. . . [Click to Read More]
Escape from North Korea: The Untold Story of Asia's Underground Railroad
Posted on Thursday July 19 2018
Superb reporting and storytelling about a modern-day underground railroad make Melanie Kirkpatrick's Escape from North Korea WORLD MAGAZINE's Book of the Year.  (Review by Marvin Olasky)
Deciding on our Book of the Year was not easy, but we're reporters and we eventually had to acclaim a great entrepreneurial reporting accomplishment: Our No. 1 is former Wall Street Journal editor Melanie Kirkpatrick's Escape from North Korea: The Untold Story of Asia's Underground Railroad. Kirkpatrick tells one of the most tragic but also heroic stories of our time, documenting the ways desperate North Koreans flee their country, with many dying in the process or ending up in concentration camps. She then shows how an "underground railroad" out of North Korea helps escapees survive in China, with Christian churches and homes providing most of the "depots."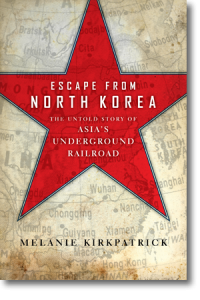 In the interview excerpted in WORLD's Nov. 17, 2012, issue, Kirkpatrick explained that North Korean escapees learn to "look for a
building with a cross on it." Chinese Christians are putting their own lives in jeopardy, because "it's against the law in China to help a North Korean—even giving somebody a meal is against the law." Kirkpatrick spoke of "Mary" and "Jim," a devout Korean-American couple from the Midwest. After successful careers and the graduation of their kids from college, they decided several years ago to devote the rest of their lives to helping people in China. Their church and the organization they work for, Crossing Borders, supported them, and today they run a string of orphanages in northeast China and a shelter for young women.
Escape from North Korea impressed our Books Issue committee of five WORLD journalists—Emily Belz, Janie Cheaney, Susan Olasky, Warren Smith, and myself. Emily called it a "well-written, untold story. If someone has little or no knowledge of North Korea and its history, she weaves that whole saga in so seamlessly." Janie also praised it, "especially in light of its spooky relevance right now," as North Korea flashes its nuclear weapons.
Warren called the book "journalism at its best, combining an important issue, meticulous reporting, and great storytelling." He pointed out that the Christian church has played a key role in fighting totalitarianism: "Solzhenitsyn documented the heroic behavior of Baptists and other Christians in the Soviet Gulags. The Roman Catholic Church played a key role in Poland's Solidarity movement." Christians today are similarly risking their lives, and Kirkpatrick documents that: Escape from North Koreadescribes "what we can pray will be the last great battle in this century-long war against totalitarianism."
Pence's visit to Jerusalem aimed more at evangelicals at home — by Trudy Rubin
Posted on Saturday February 3 2018
Some years ago, at a bookshop in Tel Aviv's Ben Gurion airport, I noticed a shelf of paperbacks aimed at the many Christian evangelicals from the United States who visit the Holy Land.
I bought one paperback, by end-times theologians Thomas Ice and J. Randall Price, titled Ready to Rebuild: The Imminent Plan to Rebuild the Last Days Temple. It detailed what Jews must do in Jerusalem to bring on Armageddon, which in turn would lead to the rapture and lifting up of those who accepted Christ. (The rest, including Jews who refuse to convert, are, of course, doomed.)
I thought of Ice and Price as Vice President Pence visited Jerusalem this week, a trip that aimed at pleasing the 81 percent of white evangelicals who backed President Trump rather than advancing any peace process.
In fact, Pence's visit illustrates the confused mess of Trump's Middle East policy one year after his election.
Yes, the president achieved his goal of eradicating the ISIS caliphate, an acceleration of a process well on its way under President Obama (whose allergy to Iraq inadvertently enabled ISIS).  The administration's further goals were to prevent ISIS 2.0, counter Iran, and achieve the "deal of the century" between Palestinians and Israel.  As I write, NATO ally Turkey is threatening U.S. troops in northern Syria, while the White House and Pentagon publicly argue over Syria policy. Iran and Russia are gloating.
And nothing better illustrates the administration's Mideast muddle than Pence's religion-infused pilgrimage to the Holy Land.
The vice president's effusive speech to the Israeli Knesset (parliament) was filled with so many biblical references some Israeli journalists called it a "sermon." Its exposition of faith as the link between American and Israel thrilled Israeli leaders and parties of the religious right. So did Pence's announcement that U.S. Embassy functions would be moved to Jerusalem by the end of 2019, after Trump's recognition of Jerusalem as Israel's capital.
But the speech did nothing to make Israel more secure.
By recognizing Jerusalem as Israel's capital – with no reference to the city's Arab sectors, whose final status Israel and the United States had pledged to negotiate – the Trump team already doomed its peace efforts. If the fate of Arab East Jerusalem is off the [negotiating] table, as the president has tweeted, neither Palestinians, nor Sunni Arab leaders can endorse any peace proposal by Trump.
And Pence's pandering to Trump's evangelical base – encouraging hard religious right forces in Israel – adds a dangerous new element to the Israeli-Palestinian standoff.  (The political clout of those forces could be seen in the fact that female reporterscovering Pence's visit to pray at the Western Wall — the holy Jewish religious site — were made to stand in back of male reporters out of viewing range.)
In his blind faith, the vice president seemed clueless of the havoc his religious endorsement could unleash.
Keep in mind that back in 1984, a small group of messianic Israeli Jews nearly succeeded in a plot to blow up Muslim holy sites on the Temple Mount. That was the site of the Second Temple (destroyed by the Romans in 70 AD) and Islam's third holiest mosque. That's also the site where Ice and Price call for Jews to rebuild their Third Temple in order to accelerate the coming of Armageddon (because it would spark a hoped for conflagration between the Muslim world and Israeli Jews).
True, Pence called on "all parties to maintain the status quo at Jerusalem's holy sites, including at the Temple Mount, also known as the Haram al-Sharif. And true, Israeli orthodox religious scholars oppose the idea of rebuilding the temple before the coming of the messiah.  But the Trump team's position on Jerusalem and Pence's religious embrace, could inspire religious radicals inside Israel, who feel emboldened by the current political climate inside Israel.
And leaks of the long-awaited Trump "peace plan" do little to discourage radical thinking – on both the Israeli or Palestinian side.
The Trump plan reportedly would leave Palestinians with limited control of roughly 40 per cent of the West Bank, not including Jerusalem or Gaza. Borders, water, airspace, internet, and security would be controlled by Israelis.
Neither Palestinians nor Arab states will accept this as a solution. That will leave Israel ruling over 4.5 million Palestinians (not including another 1.7 million inside Israel or 300,000 who live in Jerusalem). The Arab population between the Jordan River and the Mediterranean will soon outnumber Israeli Jews.
So it is no wonder that the Pence visit inspired black humor from some Israeli journalists.  "After Pence leaves and Bibi takes off for Davos, the Arabs will still be here,"  political columnist Ben Caspit wrote on Tuesday in the Maariv newspaper, referring to Netanyahu by his nickname.
"How unfortunate that we can't replace all the Arabs with evangelicals, heralding the era of the Messiah. But it's actually better that the Messiah not come, because then we'll have to convert to Christianity."
Pence was certainly no political messiah, nor did his message enhance the prospects for peace.
Why it's time to stop calling these hurricane disasters 'natural' by Kerry Emanuel
Posted on Sunday December 31 2017
As the United States struggles to recover from two back-to-back hurricanes, it would be wise to reflect on why we keep having such calamities and whether they are likely to get worse.
We must first recognize the phrase "natural disaster" for what it is: a sham we hide behind to avoid our own culpability. Hurricanes, floods, earthquakes and wildfires are part of nature, and the natural world has long ago adapted to them. Disasters occur when we move to risky places and build inadequate infrastructure.   [Continue reading.]
How Putin Checkmated The US In Syria by Anna Borshchevskaya
Posted on Saturday October 28 2017
September 30 will mark the two year anniversary of Moscow's intervention in
Syria that saved Syrian President Bashar al-Assad from an eminent collapse.
Assad is largely responsible for one of the worst humanitarian tragedies since
World War II. Today, in no small part thanks to Russian President Vladimir
Putin, he has emerged in the strongest position since massive uprisings swept
the country in March 2011.
Iran and its proxy Hezbollah have done much to prop up Assad in the last six
years. In late spring of 2013, a Hezbollah surge kept him from falling. But in
September 2015 it was Russian airpower that saved Assad from losing
ground.
Putin had stood by Assad from the very beginning and protected him
in multiple ways. He armed him, protected him on the U.N. Security Council,
and sustained Syria's military and economy. But the intervention was a game
changer that signaled Russia's escalation in Syria.
Today, on balance, Putin achieved virtually everything he wanted in Syria. He
kept Assad in power. He entrenched Russia's military presence in Syria for at
least the next 49 years—Russia's largest military presence outside the former
Soviet Union at that. Thus, Putin reduced US ability to maneuver militarily in
the region and assured Russia's influence in one of the most strategicallyimportant
countries in the Middle East.
Putin's support for Assad's ethnic cleansing campaign exacerbated massive
and destabilizing refugee flows into Europe. As long as Assad or someone like
him remains in power, the majority of refugees will not return home. Assad's
traditional foes, such as Turkish President Recep Tayyip Erdoğan have come
to accept Moscow's view on Assad, and even Saudi Arabia may be shifting its
position in Moscow's favor.
Most importantly for Putin, he can now showcase cooperation with the West
—on his terms. He created a perception of Russia as a great power broker and
obtained international recognition for his latest ceasefire initiative in
southwest Syria that led to establishment of de-escalation zones after Putin
met with Trump in July of this year. Russia, Iran, and Turkey serve as
ceasefire guarantors. Putin always resisted Western-protected safe zones in
Syria, but a Russia-led ceasefire allows him to preserve his interests in the
country.
De-escalation zones have a weaker protective framework than Westernbacked
zones would have had. Moscow deployed its military police to
monitor the ceasefire but it's unclear how this arrangement will be enforced.
The agreement barely acknowledges Iran's role in Syria. Meanwhile, two key
US allies in the region, Israel and Jordan, now have to deal with Russia on
vital US national security issues. With Russia as a partner, the US now also
has to share the moral burden of Russian airstrikes that kill civilians.
Far from getting himself into a quagmire in Syria that President Obama
had predicted in October 2015, Putin has been able to carry out a relatively
cheap campaign and is now on his way to extricating himself from the conflict
while ensuring Russia's presence and influence at the same time. He boosted
Russia's arms exports by using Syria as a testing ground for Russian
weaponry. Now that the situation is stabilizing in certain key regions of the
country, Russian energy companies are looking to rebuild Syria's energy
infrastructure.
Saudi Arabia wants to improve Image; Here's How (by Juan Cole
Posted on Saturday September 16 2017
Saudi Arabia is alleged to be hiring a PR firm to improve its tattered image in the West .
As usual, such a campaign confuses substance with fluff and the money will be wasted.
I am sympathetic to Saudi feelings that they get an unfair rap. In my Engaging the Muslim World I argued that it is wrong to confuse the Wahhabi form of Islam that the Saudi regime favors with terrorism. The kingdom is pragmatic, and supported the secular nationalist regime of Hosni Mubarak in Egypt, for instance. It is not that I agree with almost any Saudi policy, I am just trying to be even-handed.
The Saudis were not involved in 9/11, despite the desperate arguments of the lawyers of the 9/11 victims. The Saudis are innocent but have a lot of money, so it is profitable to railroad them. Saudi Arabia is heavily invested in US stocks and companies, and it was foreseeable that 9/11 would harm those investments pretty badly.
Al-Qaeda did it, not the the Al Saud. Bin Laden had been kicked out and deprived of his citizenship, and was plotting to overthrow the royal family.
Moreover, at least publicly, the Saudis under King Abdullah were against the Bush invasion and occupation of Iraq.
But since Crown Prince Muhammad b. Salman has emerged as the power behind the throne, the kingdom has been flexing its muscles and engaging in an astonishing adventurism that has roiled the region. But the heir apparent is young and inexperienced, and the kingdom has no checks or balances. It is not too late to step back from the brink.
So here are 7 policies the Saudi government can change if it wants a more positive image in the US press.
1. They have to end their savage and fruitless war on poor little Yemen, which has been bombed intensively by Saudi Arabia and its allies. The war has caused 600,000 cholera cases and 2000 cholera deaths, not to mention the people who have died being pummeled from the sky.
2. They have to give up on overthrowing the government of Bashar al-Assad of Syria and recognize that Salafism (the Sunni version of Wahhabism) wouldn't work in Syria. There are too many powerful religious communities, from the Alawites to the Christians to Druze that just would not accept a Salafi state, and nor would most Sunni Syrians. Now that Russia has come in strongly to back al-Assad, funding anti-Assad hard line rebels will just prolong the country's agony. Syria is resource-poor and poses no threat to Saudi Arabia. Let it go.
3. They should cease their effort to force Qatar to fall in line behind Riyadh. A divided Gulf Cooperation Council is a laughingstock, and it is highly unlikely that mere talking will resolve this one.
4. They should seek a diplomatic resolution of the stand-off with Iran. Actually if they stopped bombing Yemen and made peace with Syria, there wouldn't be much reason to demonize Iran.
5. They should license churches for their Christian guest workers, the way Qatar has. There isn't any reason in Muslim law that Christians can't worship in the Arabian Peninsula. The Qur'an deplores interfering with or destroying churches and other houses of worship (The Cow 2:114).
6. Stop pushing climate change denialism. Petroleum is done; put a fork in it. The crown prince realizes that the kingdom has to move away from petroleum to fund its government. But guess what. The Empty Quarter would be perfect for a huge solar farm.
7. Let women drive.
"The Theology of American National Security" by Andrew Bacevich (our Jan. 2016 speaker)
Posted on Friday December 4 2015
Reproduced from TomDispatch.com:
The Theology of American National Security
by Andrew Bacevich
In April 2003, with Baghdad occupied by American troops, the top officials of the Bush administration were already dreaming of building bases in Iraq that would be garrisoned more or less in perpetuity. Everyone was too polite to call them "permanent bases," so they were sometimes referred to by the Pentagon as "enduring camps." Still, planning for "permanent access" to at least four giant Iraqi bases was underway, as Thom Shanker and Eric Schmitt of the New York Times reported then. These were intended to anchor a Pax Americana in the Middle East.
In the months that followed President Bush's "mission accomplished" speech, the U.S. military began constructing bases in remarkable profusion. By late 2003, Lieutenant Colonel David Holt, "tasked with facilities development" in Iraq, was quoted in an engineering magazine speaking proudly of several billion dollars already having been sunk into base construction. ("The numbers," he said, "are staggering.") By 2005, as the country disintegrated into Sunni and Shiite insurgencies and chaos ensued, there were 105 U.S. bases in the country, ranging from tiny combat outposts to monster facilities like Balad Air Base with its own Pizza Hut, Subway, and Popeye's franchises, "an ersatz Starbucks," a 24-hour Burger King, two post exchanges, and four mess halls. By the height of the occupation, Washington had reportedly constructed a mind-boggling 505 bases without any kind of public accounting of what was being spent on them. By 2011, when the last U.S. troops slipped out of the country, every one of them (except the 506th base, the giant three-quarters-of-a-billion-dollar American Embassy that the Bush administration built in Baghdad) had been abandoned to the Iraqi military, to looters, or to the ravages of time.
And that was that… or was it?
When the Obama administration launched Iraq War 3.0 last year, sending in 3,000 American advisers, trainers, and other personnel, it garrisoned some of them on familiar bases reoccupied for the occasion. Last week, as it was preparing to dispatch the next round of trainers and other personnel to Iraq, it also announced the "opening" of a brand-new "lily pad" (or bare-bones) base for them at Taqaddam in al-Anbar Province, nearer to the front lines of the conflict with the forces of the Islamic State. At the same time, Chairman of the Joint Chiefs General Martin Dempsey began to talk up the possibility of building additional "lily pads" — a "network" of new bases — for more U.S. personnel elsewhere in Iraq. (Such a lily-pad strategy was, by the way, tried in Afghanistan and essentially failed.) Soon after, the New York Times reported that President Obama was "open" to such a strategy. In other words, in Washington's Groundhog Day-style conflict in Iraq, round two of base building was now underway.
And here's one strange thing: no newspaper reporting on any of this mentioned that there had been a previous history of base building in Iraq — not even the Times, whose reporters first covered the story back in April 2003. That crucial history has, it seems, simply vanished. In this country, it's as if it never happened. And yet the minute you consider the proposed lily-pad strategy in the context of those 505 abandoned bases, it seems risible.
TomDispatch regular Andrew Bacevich turns to this very combination of collective amnesia and repetitive madness today, so feel free to follow him down the Washington rabbit hole. Tom
Washington in Wonderland
Down the Iraqi Rabbit Hole (Again)
By Andrew J. Bacevich

There is a peculiar form of insanity in which a veneer of rationality distracts attention from the madness lurking just beneath the surface. When Alice dove down her rabbit hole to enter a place where smirking cats offered directions, ill-mannered caterpillars dispensed advice, and Mock Turtles constituted the principal ingredient in Mock Turtle soup, she experienced something of the sort.

Yet, as the old adage goes, truth can be even stranger than fiction. For a real-life illustration of this phenomenon, one need look no further than Washington and its approach to national security policy. Viewed up close, it all seems to hang together. Peer out of the rabbit hole and the sheer lunacy quickly becomes apparent.
Consider this recent headline: "U.S. to Ship 2,000 Anti-Tank Missiles To Iraq To Help Fight ISIS." The accompanying article describes a Pentagon initiative to reinforce Iraq's battered army with a rush order of AT-4s. A souped-up version of the old bazooka, the AT-4 is designed to punch holes through armored vehicles.

Taken on its own terms, the decision makes considerable sense. Iraqi forces need something to counter a fearsome new tactic of the Islamic State of Iraq and Syria (ISIS): suicide bombers mounted in heavily armored wheeled vehicles. Improved antitank capabilities certainly could help Iraqi troops take out such bombers before they reach their intended targets. The logic is airtight. The sooner these weapons get into the hands of Iraqi personnel, the better for them — and so the better for us.

As it turns out, however, the vehicle of choice for ISIS suicide bombers these days is the up-armored Humvee. In June 2014, when the Iraqi Army abandoned the country's second largest city, Mosul, ISIS acquired 2,300made-in-the-U.S.A. Humvees. Since then, it's captured even more of them.

As U.S. forces were themselves withdrawing from Iraq in 2011, they bequeathed a huge fleet of Humvees to the "new" Iraqi army it had built to the tune of $25 billion. Again, the logic of doing so was impeccable: Iraqi troops needed equipment; shipping used Humvees back to the U.S. was going to cost more than they were worth. Better to give them to those who could put them to good use.  Who could quarrel with that?

Before they handed over the used equipment, U.S. troops had spent years trying to pacify Iraq, where order had pretty much collapsed after the invasion of 2003. American troops in Iraq had plenty of tanks and other heavy equipment, but once the country fell into insurgency and civil war, patrolling Iraqi cities required something akin to a hopped-up cop car. The readily available Humvee filled the bill.  When it turned out that troops driving around in what was essentially an oversized jeep were vulnerable to sniper fire and roadside bombs, "hardening" those vehicles to protect the occupants became a no-brainer — as even Secretary of Defense Donald Rumsfeld eventually recognized.

At each step along the way, the decisions made possessed a certain obvious logic.  It's only when you get to the end — giving Iraqis American-made weapons to destroy specially hardened American-made military vehicles previously provided to those same Iraqis — that the strangely circular and seriously cuckoo Alice-in-Wonderland nature of the entire enterprise becomes apparent.

AT-4s blowing up those Humvees — with fingers crossed that the anti-tank weapons don't also fall into the hands of ISIS militants — illustrates in microcosm the larger madness of Washington's policies concealed by the superficial logic of each immediate situation.

The Promotion of Policies That Have Manifestly Failed

Let me provide a firsthand illustration.  A week ago, I appeared on a network television news program to discuss American policy in Iraq and in particular the challenges posed by ISIS.  The other guests were former Secretary of Defense and CIA Director Leon Panetta, former Undersecretary of Defense for Policy and current CEO of a Washington think tank Michelle Flournoy, and retired four-star general Anthony Zinni who had once headed up United States Central Command.

Washington is a city in which whatever happens within the current news cycle trumps all other considerations, whether in the immediate or distant past.  So the moderator launched the discussion by asking the panelists to comment on President Obama's decision, announced earlier that very day, to plus-up the 3,000-strong train-and-equip mission to Iraq with an additional 450 American soldiers, the latest ratcheting up of ongoing U.S. efforts to deal with ISIS.

Panetta spoke first and professed wholehearted approval of the initiative.  "Well, there's no question that I think the president's taken the right step in adding these trainers and advisers."  More such steps — funneling arms to Iraqi Kurds and Sunnis and deploying U.S. Special Operations Forces to hunt down terrorists — were "going to be necessary in order to be able to achieve the mission that we have embarked on."  That mission was of critical importance.  Unless defeated, ISIS would convert Iraq into "a base [for] attacking our country and attacking our homeland."

Flournoy expressed a similar opinion.  She called the decision to send additional trainers "a good move and a smart move," although she, too, hoped that it was only the "first step in a broader series" of escalatory actions.  If anything, her view of ISIS was more dire than that of her former Pentagon boss.  She called it "the new jihad — violent jihadist vanguard in the Middle East and globally."  Unless stopped, ISIS was likely to become "a global network" with "transnational objectives," while its "thousands of foreign fighters" from the West and Gulf states were eventually going to "return and be looking to carry out jihad in their home countries."

General Zinni begged to differ — not on the nature of the danger confronting Washington, but on what to do about it.  He described the present policy as "almost déjà vu," a throwback "to Vietnam before we committed the ground forces.  We dribble in more and more advisers and support."

"We're not fully committed to this fight," the general complained.  "We use terms like destroy.  I can tell you, you could put ground forces on the ground now and we can destroy ISIS."  Zinni proposed doing just that.  No more shilly-shallying.  The template for action was readily at hand.  "The last victory, clear victory that we had was in the first Gulf War," he said.  And what were the keys to success then?  "We used overwhelming force.  We ended it quickly. We went to the U.N. and got a resolution. We built a coalition.  And that ought to be a model we ought to look at."  In short, go big, go hard, go home.

Panetta disagreed.  He had a different template in mind.  The Iraq War of 2003-2011 had clearly shown that "we know how to do this, and we know how to win at doing this."  The real key was to allow America's generals a free hand to do what needed to be done.  "[A]ll we really do need to do is to be able to give our military commanders the flexibility to design not only the strategy to degrade ISIS, but the larger strategy we need in order to defeat ISIS."  Unleashing the likes of Delta Force or SEAL Team 6 with some missile-firing drones thrown in for good measure was likely to suffice.

For her part, Flournoy thought the real problem was "making sure that there is Iraqi capacity to hold the territory, secure it long-term, so that ISIS doesn't come back again.  And that involves the larger political compromises" — the ones the Iraqis themselves needed to make.  At the end of the day, the solution was an Iraqi army willing and able to fight and an Iraqi government willing and able to govern effectively.  On that score, there was much work to be done.

Panetta then pointed out that none of this was in the cards unless the United States stepped up to meet the challenge.  "[I]f the United States doesn't provide leadership in these crises, nobody else will."  That much was patently obvious.  Other countries and the Iraqis themselves might pitch in, "but we have to provide that leadership.  We can't just stand on the sidelines wringing our hands.  I mean… ask the people of Paris what happened there with ISIS.  Ask the people in Brussels what happened there with ISIS.  What happened in Toronto? What's happened in this country as a result of the threat from ISIS?"

Ultimately, everything turned on the willingness of America to bring order and stability out of chaos and confusion.  Only the United States possessed the necessary combination of wisdom, competence, and strength.  Here was a proposition to which Flournoy and Zinni readily assented.

With Alice in Washington

To participate in an exchange with these pillars of the Washington establishment was immensely instructive.  Only nominally did their comments qualify as a debate.  Despite superficial differences, the discussion was actually an exercise in affirming the theology of American national security — those essential matters of faith that define continuities of policy in Washington, whatever administration is in power.

In that regard, apparent disagreement on specifics masked a deeper consensus consisting of three elements:

* That ISIS represents something akin to an existential threat to the United States, the latest in a long line going back to the totalitarian ideologies of the last century; fascism and communism may be gone, but danger is ever present.

* That if the United States doesn't claim ownership of the problem of Iraq, the prospects of "solving" it are nil; action or inaction by Washington alone, that is, determines the fate of the planet.

* That the exercise of leadership implies, and indeed requires, employing armed might; without a willingness to loose military power, global leadership is inconceivable.

In a fundamental respect, the purpose of the national security establishment, including the establishment media, is to shield that tripartite consensus from critical examination.  This requires narrowing the aperture of analysis so as to exclude anything apart from the here-and-now.  The discussion in which I participated provided a vehicle for doing just that.  It was an exercise aimed at fostering collective amnesia.

So what the former secretary of defense, think tank CEO, and retired general chose not to say in fretting about ISIS is as revealing as what they did say.  Here are some of the things they chose to overlook:

* ISIS would not exist were it not for the folly of the United States in invading — and breaking — Iraq in the first place; we created the vacuum that ISIS is now attempting to fill.

* U.S. military efforts to pacify occupied Iraq from 2003 to 2011 succeeded only in creating a decent interval for the United States to withdraw without having to admit to outright defeat; in no sense did "our" Iraq War end in anything remotely approximating victory, despite the already forgotten loss of thousands of American lives and the expenditure of trillions of dollars.

* For more than a decade and at very considerable expense, the United States has been attempting to create an Iraqi government that governs and an Iraqi army that fights; the results of those efforts speak for themselves: they have failed abysmally.

Now, these are facts.  Acknowledging them might suggest a further conclusion: that anyone proposing ways for Washington to put things right in Iraq ought to display a certain sense of humility.  The implications of those facts — behind which lies a policy failure of epic proportions — might even provide the basis for an interesting discussion on national television.  But that would assume a willingness to engage in serious self-reflection.  This, the culture of Washington does not encourage, especially on matters related to basic national security policy.

My own contribution to the televised debate was modest and ineffectual.  Toward the end, the moderator offered me a chance to redeem myself.  What, she asked, did I think about Panetta's tribute to the indispensability of American leadership?

A fat pitch that I should have hit it out of the park.  Instead, I fouled it off.  What I should have said was this: leadership ought to mean something other than simply repeating and compounding past mistakes.  It should require more than clinging to policies that have manifestly failed.  To remain willfully blind to those failures is not leadership, it's madness.

Not that it would have mattered if I had. When it comes to Iraq, we're already halfway back down Alice's rabbit hole.

Andrew J. Bacevich, a TomDispatch regular, is writing a military history of America's War for the Greater Middle East. His most recent book is Breach of Trust: How Americans Failed Their Soldiers and Their Country.

Follow TomDispatch on Twitter and join us on Facebook. Check out the newest Dispatch Book, Nick Turse's Tomorrow's Battlefield: U.S. Proxy Wars and Secret Ops in Africa, and Tom Engelhardt's latest book, Shadow Government: Surveillance, Secret Wars, and a Global Security State in a Single-Superpower World.

Copyright 2015 Andrew J. Bacevich

Tomgram: Andrew Bacevich, The Theology of American National Security
Stephen Walt on His Forum Experience
Posted on Thursday August 9 2012
We often write about our speakers after they appear at the Forum, but Steve Walt is the first one to write about us after speaking.  Click here for his latest Foreign Policy article.